An initial grant of $1.3 million was awarded to Lively Minds in 2017 to enable it to test its model of high-quality educational play schemes in kindergartens using local resources and volunteers from the community, complemented by a $785,000 grant to the Institute of Fiscal Studies to carry out a randomised controlled trial. This was followed by a $2.7 million grant in 2020 to support Lively Minds' partnership with the Ghanaian Education Service to scale the innovation to 1,600 kindergarten schools in 24 districts, and to deliver the Lively Minds Together radio programme, which aimed to reach poor households and provide parenting guidance and advice on positive play.
The Development Challenge
250 million children in developing countries currently fail to reach their full potential in terms of cognitive development. Although Ghana has made great strides in early childhood care and education (ECCE) in comparison with other African countries, average class sizes exceed 50 and 50% of children in primary grade 2 are unable to read a single word. The Ghana Demographic and Health Survey found that for every 100 children who entered kindergarten, only 16 transitioned to senior high school. Prior research suggests that encouraging psychosocial stimulation at an early age can generate long-lasting improvements in children's outcomes. The challenge is to set up models of parental engagement and early education services that can operate cost-effectively at a large scale.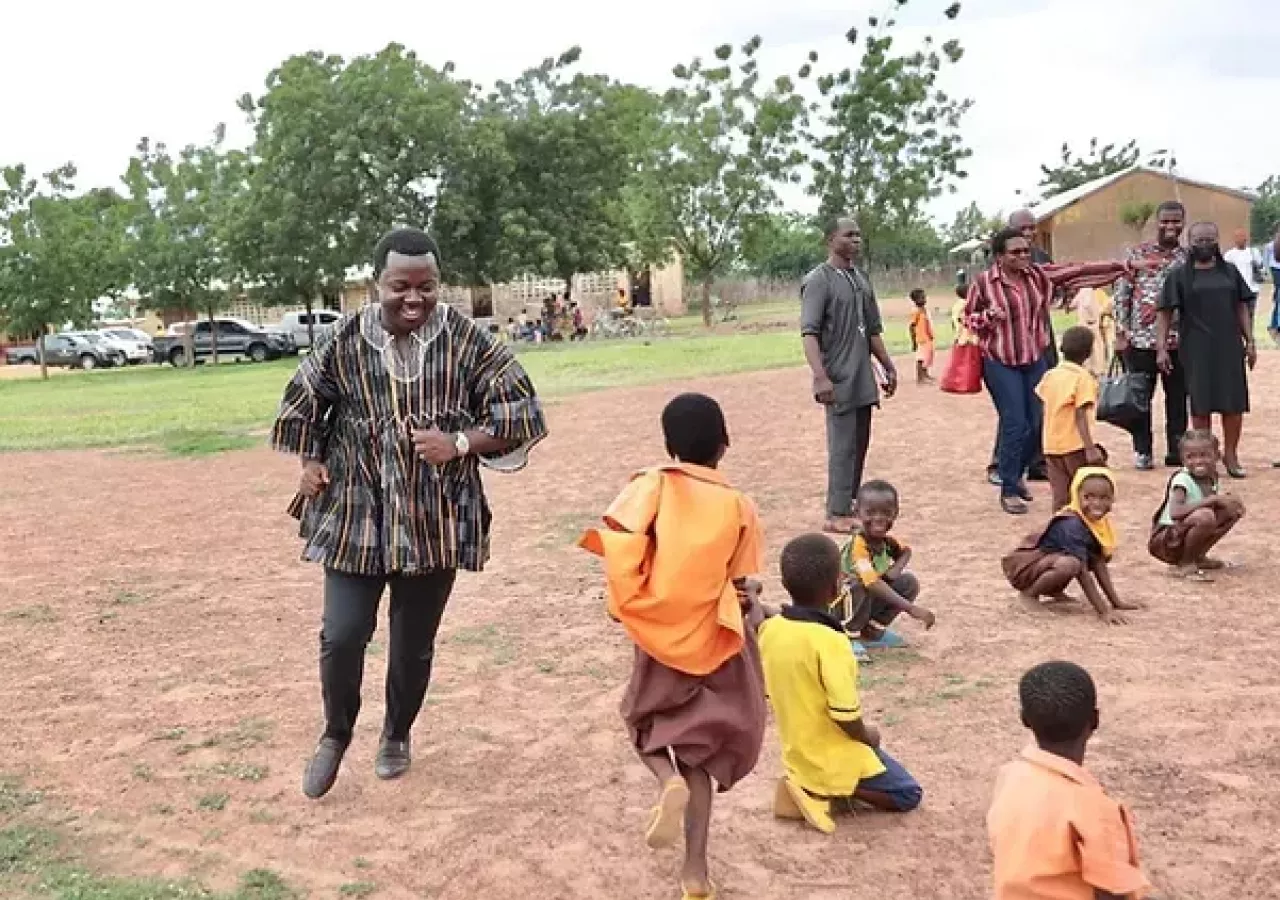 The Innovation
Lively Minds has replicated and adapted to Ghana an innovative model of improving ECCE by setting up community-run educational play schemes in kindergartens. These schemes are run by members of the local community and give kindergarten children access to age-appropriate and interactive games that are designed to improve cognitive skills, school preparedness, and health. The community volunteers also receive important parenting advice and instruction. A randomised controlled trial concluded in 2019 demonstrated significant positive impacts on school readiness and a reduction in behavioural problems.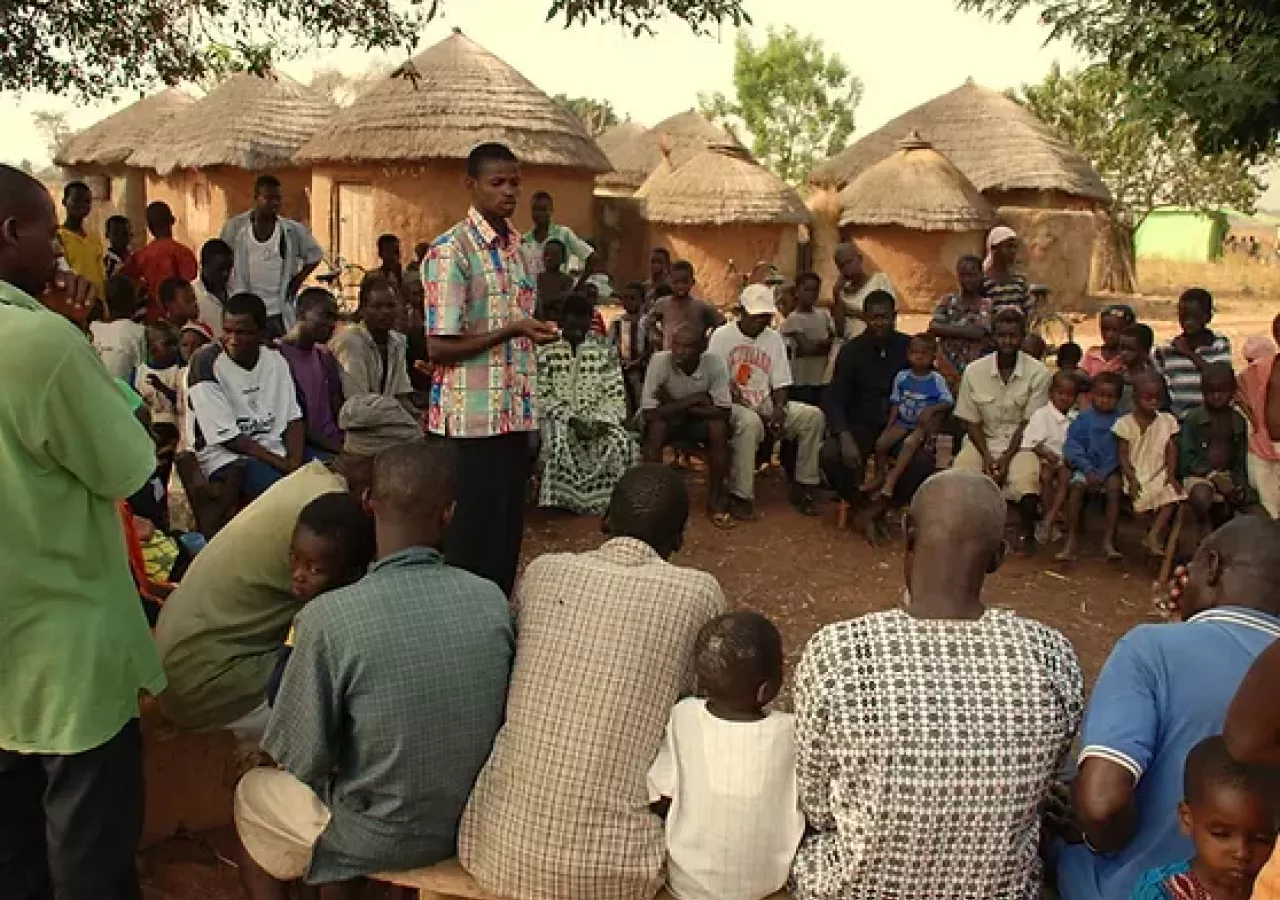 Our Investment
Following a successful test and transition grant, a scale investment will enable Lively Minds to embed the programme in 1,600 schools across 24 districts in northern Ghana. Lively Minds will train district education officials, who in turn will work with headteachers and kindergarten teachers to deliver and sustain the programme. This grant will equip districts with support in planning and monitoring the programme; and support work at the national level to integrate with government systems and processes. Funding will also support adaptation of the programme for broadcast in 18 languages, vital to ensure that families have access to key messages during a period of prolonged school closures as a result of the Covid-19 pandemic.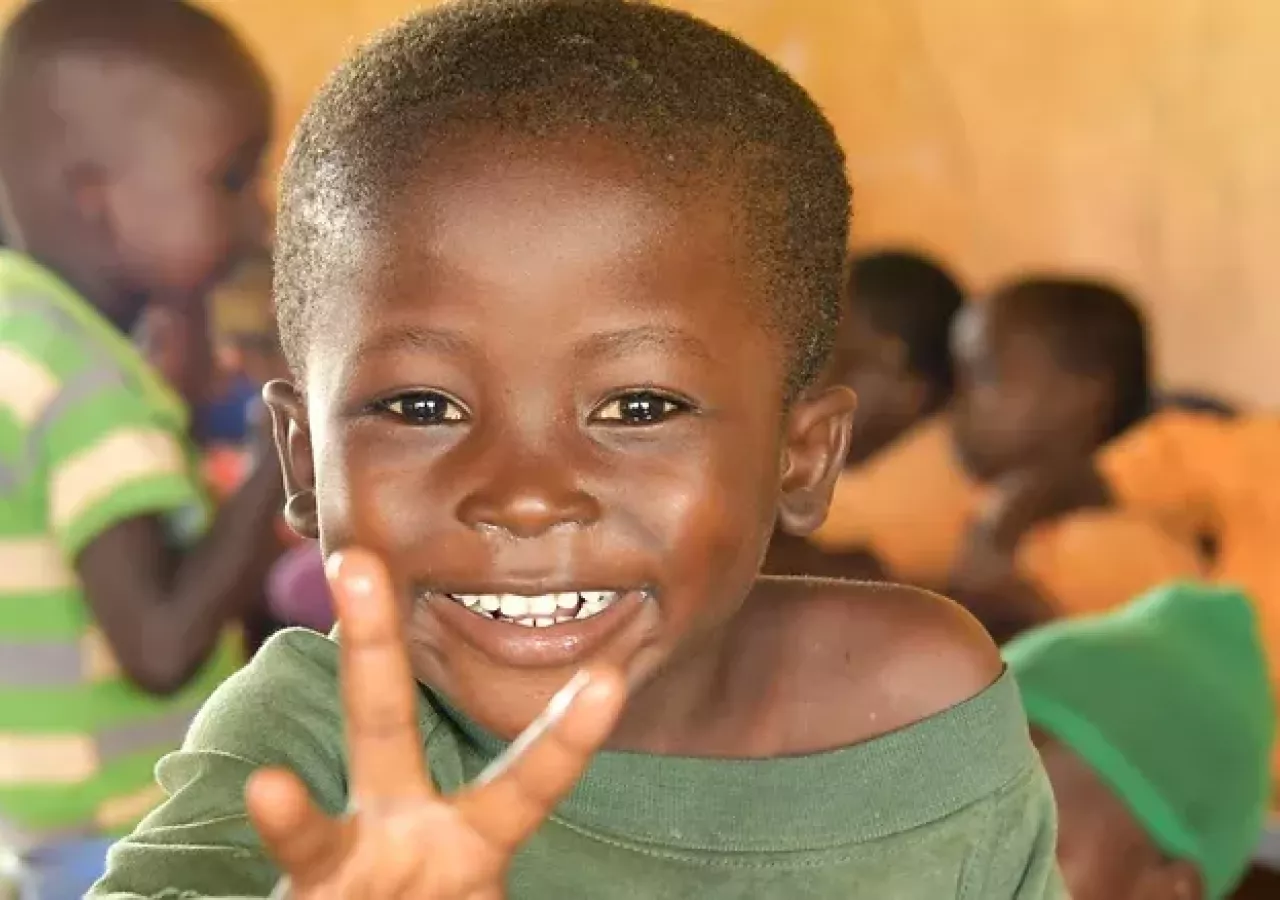 Investment Objective
To support the Ghanaian government to integrate the Lively Minds programme with existing kindergarten services in 1,600 kindergarten schools across 24 districts, as well as equipping them with the capacity to sustain and monitor the programme. Funding will also support education authorities to prepare, broadcast, and monitor the interactive Lively Minds Together radio programme in 18 languages.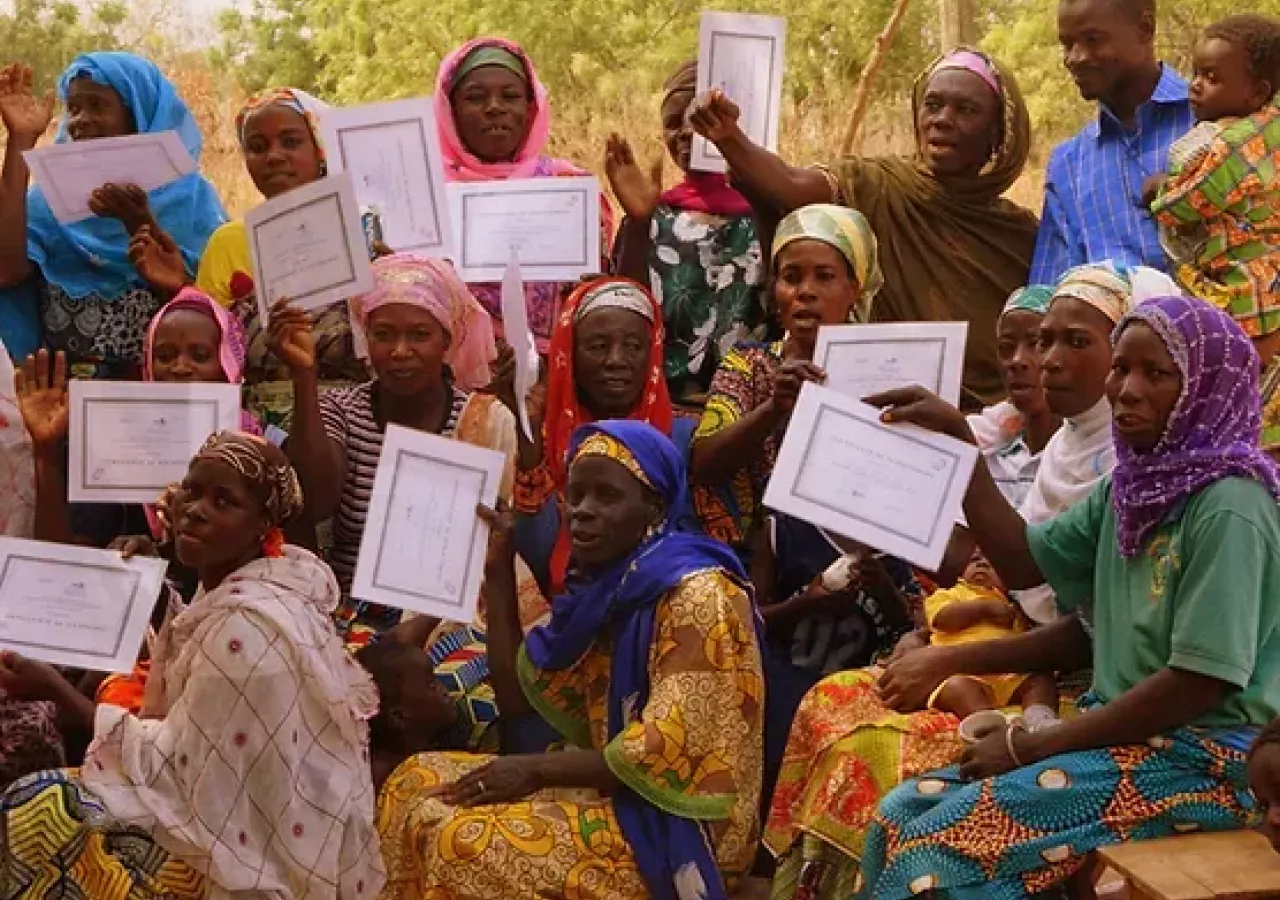 Why we invested
The intervention and RCT address an important development issue affecting 200 million children, with significant long-term benefits on general productivity.

The play scheme is potentially an effective, low-cost, replicable model that addresses both demand and supply side issues and responds to many education, social, and health challenges simultaneously.

The intervention uses a scalable government service delivery system and has initial buy-in from the Ghana Education Service, which has assessed the Lively Minds model to be 'cost-effective, child-friendly and adaptable for use in Ghanaian kindergarten classrooms' and has engaged its staff at the district level.

Robust study design and strong plans to generate evidence that is directly comparable and will complement existing research in ECCE in Ghana and contribute to the global public good.

Highly capable team, with a proven track record in using evidence in programme design and implementation, and with world class reputation on ECD research.

This intervention also supports a number of the UN Sustainable Development Goals, including Goal 1 (No Poverty) and Goal 4 (Quality Education).
500,000
Children will be reached each year thanks to GIF's 2020 grant
Over 600
Teachers trained by the end of 2019
Lively Minds Impact Brief
Introduction
Early Childhood Care and Education (ECCE) encompasses cognitive, health, social, and language development. Improvements in these domains lead to improvements in life skills, long-term school attendance, and lifetime earnings.
In Ghana, particularly in rural areas in the northern parts of the country, two critical ECCE gaps often exist:
A lack of quality kindergarten provision

Poor-quality home-based care and education
The Lively Minds programme addresses these problems in Ghana by engaging kindergarten teachers as well as empowering mothers to run Play Schemes and provide education and care at home. The Lively Minds Play Schemes involve a specially-designed suite of educational games designed to be played in government kindergarten schools in Ghana. The games are designed to encourage the children to act socially, think creatively, solve problems, and learn new skills, including counting and pre-literacy skills. Mothers enrolled in the programme attend schools on different days, where they lead an hour-long session. The children are arranged in small groups, rotate around five play stations, and must wash their hands with soap before taking part, sensitising them to this vital practice. Parents are also given Parenting Workshops to encourage provision of nurturing care and education at home.
Use of GIF Funds
In 2016 GIF awarded a grant to Lively Minds to set up and run play schemes in partnership with the Ghana Education Service (GES) in six districts. Further funding was awarded to the Institute of Fiscal Studies to conduct a randomised controlled trial, or RCT, in partnership with Innovations for Poverty Action. This involved randomisation at 80 schools in two districts. A follow-on grant awarded in 2020 will enable Lively Minds to support GES to scale up the programme to 60 districts reaching close to 500,000 children each year. GIF funds are targeted at the first 24 districts over the first three years of the five year programme.
Impact to Date
By the end of 2019, Lively Minds had supported over 250 play schemes, reached 50,000 children, trained over 11,000 mothers, and trained over 600 teachers. Teachers had a 90% attendance rate at Play Schemes, and volunteer Mothers had an attendance rate of 80%. Both of these were consistently and substantially above target rates.
The GIF-funded RCT showed that the Lively Minds programme improved the school readiness of the children at low cost. This is driven by significant improvements in early understanding of numbers, development of executive function (such as memory and focus), and fine-motor skills such as improved muscle grips. Further improvements included a reduction in conduct problems and hyperactivity.
The Lively Minds programme is particularly successful in raising cognitive abilities for children coming from poorer households. Children from the bottom socio-economic quintile saw more than twice the increase in cognitive development compared to those from higher socio-economic quintiles. There was also a significant improvement in the literacy skills of disadvantaged children.
Boys had larger improvements in their socio-emotional skills compared to girls. However, girls – on average – had larger improvements across most of the socio-emotional domains. Health benefits included a decrease in acute malnutrition, and an increase of children's mid-upper arm circumference (a proxy for overall weight and health) by 21mm on average.
Benefits to parents include improved general knowledge about child development and pre-school quality. For example, mothers better recognise the importance of praising children when they try to do something new, and are more likely to believe that play-based learning is better for children than rote-based learning. Parents spend more 'productive' time with their children and are more likely to practise productive teaching strategies.