A $2,307,658 grant to enable the roll out of an adaptive learning software, Mindspark, within 80 government schools in India, as well as to integrate the platform into regular classroom teaching by government school teachers, and to develop a set of experimental research studies on effective teaching methods from the data generated during the implementation.
The Development Challenge
Developing countries have made significant progress in improving school enrolment and completion. However, learning outcomes remain low. In India, over 60% of children aged 6-14 cannot read at the second-grade level, despite primary school enrollment rates standing at over 95% and substantial increases in education spending. Personalised teaching can help low-achieving students to catch up. However, it is extremely challenging for teachers to tailor learning to each individual child. Often, the most that teachers can do is assess students performance and provide different activities to different groups of students.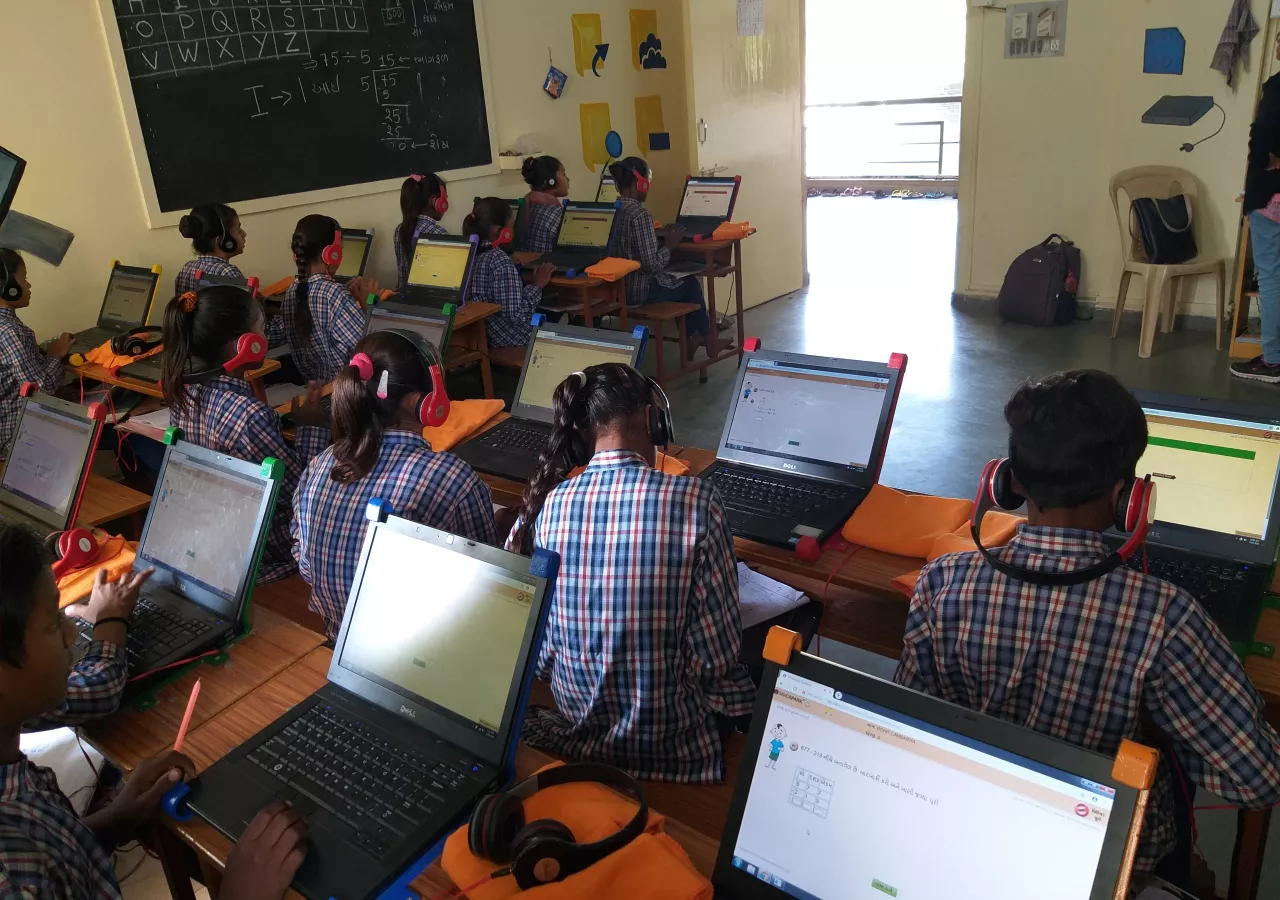 The Innovation
Educational Initiatives adaptive learning software, Mindspark, delivers personalised instruction to students in a regular classroom setting. Mindspark has been used by over 500,000 private school students to date, has a database of over 45,000 test questions, and administers over a million questions to its users every day.

Mindspark uses data to benchmark the learning level of every student and customise material to accurately match the level and rate of progress made by each individual student. It can also analyse data to identify patterns of errors, and precisely target content to overcome learning obstacles that may be difficult for teachers to address with each individual student. It can be delivered in a variety of settings, and may be deployed through computers, tablets, or smartphones. It also functions both online and offline.

A recent high-quality RCT found large and cost-effective gains in test scores for students using the vernacular Hindi version of Mindspark in after-school centres. Students using Mindspark saw a two-fold improvement in learning in Mathematics, as well as a 2.5-fold improvement in Hindi (language) when compared to control group learning levels.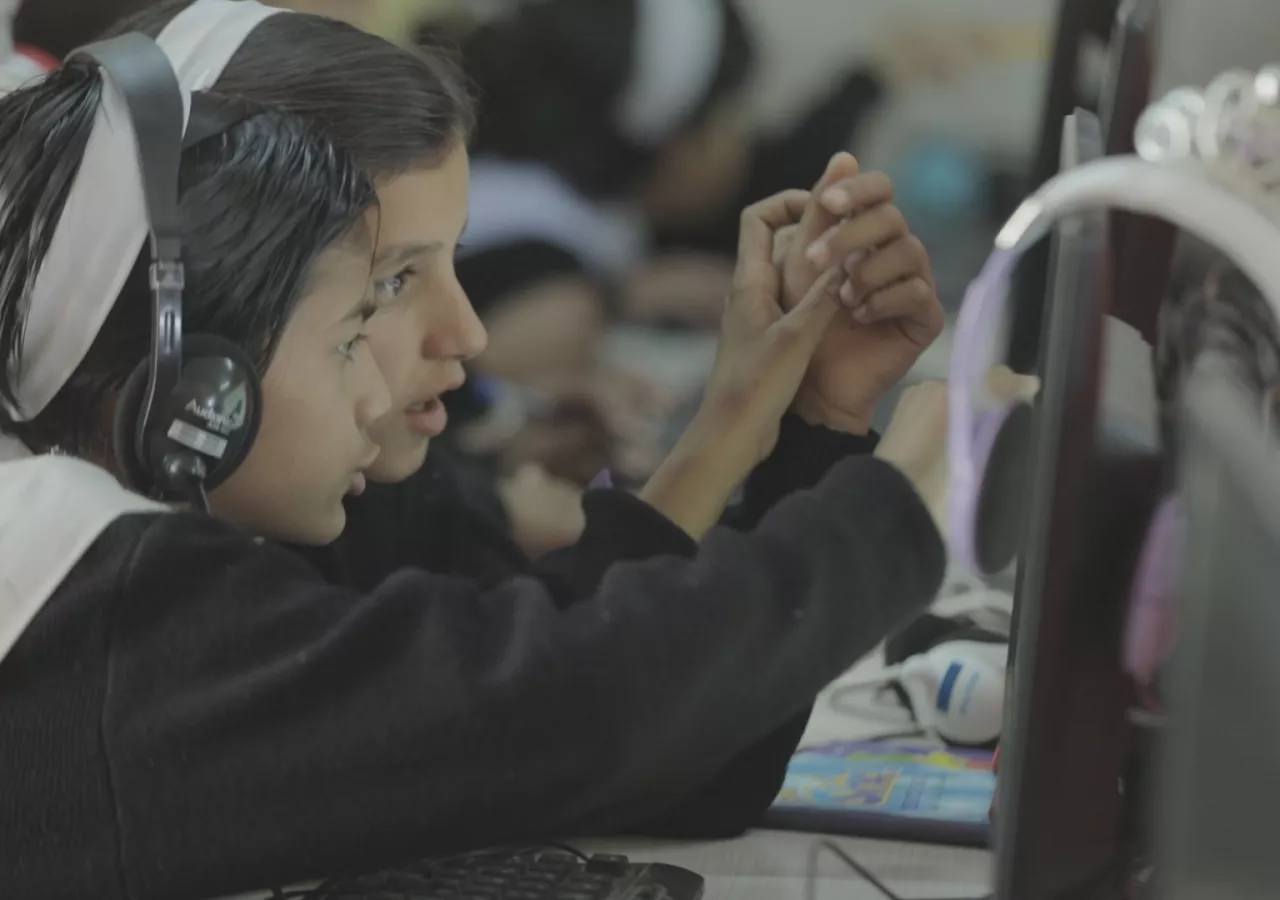 Our Investment
A key challenge to realising the potential of the platform is to successfully deploy it within a government school setting and to integrate the platform into regular pedagogy. GIFs support for Educational Initiatives (in cooperation with J-PAL) is being used for classroom integration of adaptive learning software in the government system, as well as the development of a Learning Lab, which will produce knowledge on learning deficits and effective pedagogy in low-income settings.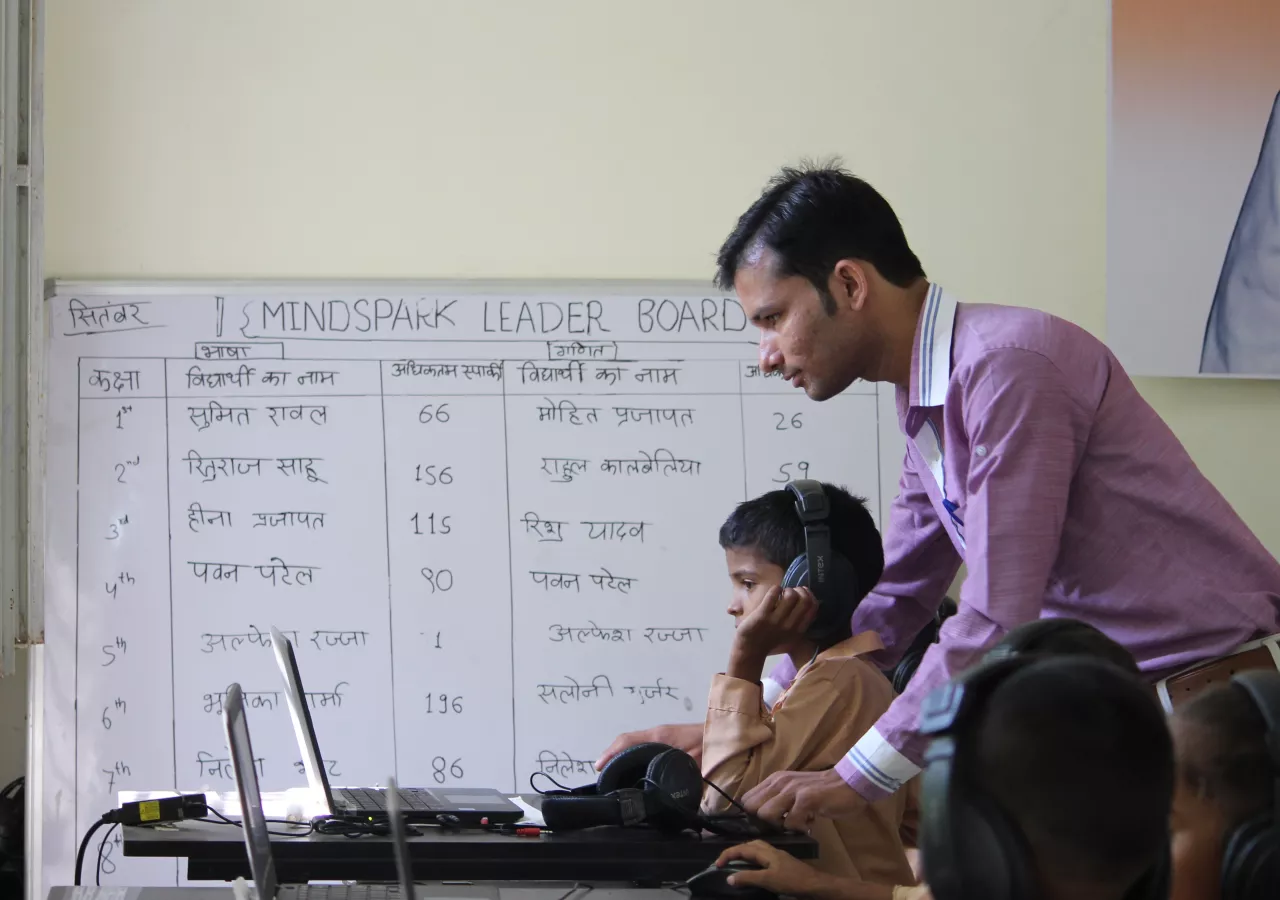 Investment Objective
To deploy the Mindspark programme in at least 40 participating government schools to benefit at least 5,000 children through improving learning outcomes in Mathematics and Hindi. To document and disseminate processes, tools, and learning to assist in uptake of personalised adaptive learning in other schools in India, produce research papers on effective pedagogy, and create a science of learning library to act as a repository of key pedagogical concepts, common misconceptions, and remedial plans for Mathematics and Hindi for grades 1-4.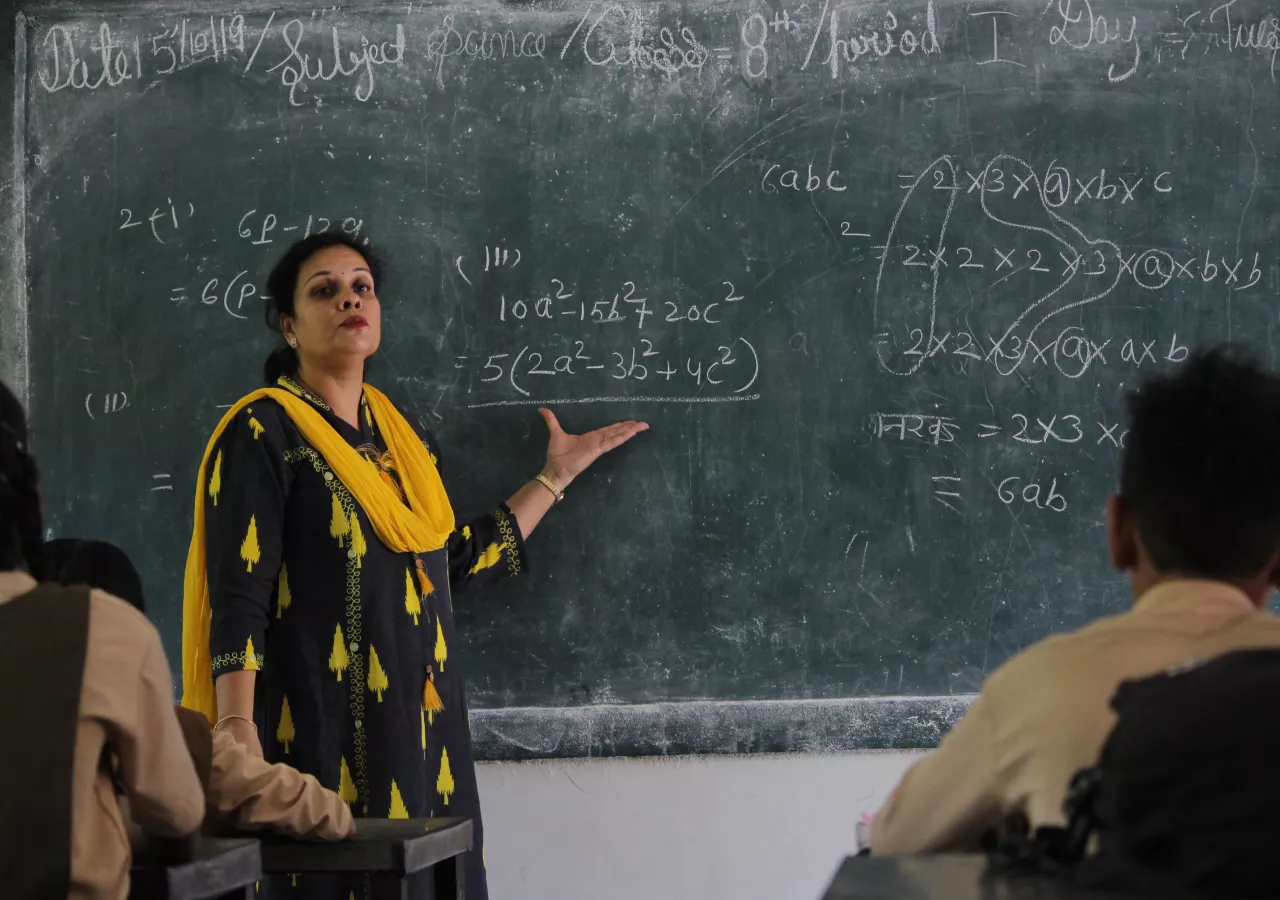 Why we invested
Poor education outcomes are an important development problem that is worsening over time, with disproportionate long-term impact on target beneficiaries.

Significant promise in using technology to convert education investments of time and money into human capital (cracking the black box of pedagogical effectiveness at large scale).

Disruptive innovation, with strong initial evidence of high impact and cost-effectiveness. Strong implementation and academic team.

A potentially compelling pathway to scale through public systems at least a few states likely to adopt if success can be demonstrated.

The evaluation seeks to prove a scalable implementation model by figuring out the most effective manner in which the software can be integrated into regular classroom instruction.
Educational Initiatives in numbers
200,000
Children reached across India
Educational Initiatives Impact Brief
Introduction
There is a 'learning crisis' in low-income countries. More children than ever are enrolling and attending school, but for too many children turning up at school does not translate to meaningful learning. In rural India, for instance, primary enrolment rates exceed 95%, but more than half of grade-five children are unable to read at the second-grade level. Students who are not at their grade level often fall behind the class and are left perpetually catching up.
'Teaching at the Right Level' (TaRL) can help each student to learn at their own level of understanding. However, TaRL led by humans has its limitations, particularly when teaching at higher grades, where content gets tougher and the variation in the class simultaneously gets larger. TaRL is also highly dependent on the quality of the human teacher and their ability to diagnose each child and cater to their learning.
To tackle these limitations, a computer-based model of TaRL known as Personalized Adaptive Learning (PAL) can be used to customise instruction to the needs and pace of each student across the entire spectrum of grades 1-10. It has been an open question as to whether PAL can be cost-effectively implemented for low-income students in a public school setting at scale.
Educational Initiatives' innovation is a PAL software called Mindspark, which draws on a database of more than 45,000 test questions that have been answered by more than 500,000 unique children to finely benchmark the learning level of each student and dynamically customise the material being delivered to match the level and rate of progress made by each individual student. The software is already widely used by private school students. Its intervention for after-school instruction programmes was rigorously tested and showed [1] a two-fold improvement in learning in Mathematics, as well as a 2.5-fold improvement in Hindi (language) when compared to control group learning levels. The programme was also equally effective for students at all levels of the achievement distribution. However, the relative impact of the programme was much greater for low-achieving students, who were making no progress in school.
Use of GIF funds
In August 2017, GIF gave a $2.3 million grant to Educational Initiatives to explore how Mindspark can be used effectively in government schools during the school time-table with the school teachers. GIF funding is enabling the roll-out of Mindspark in 40 government schools in the northern Indian province of Rajasthan with the goal of improving the learning outcomes of 6,500 children studying in grades 1-8.
The grant also supports the company's development of public goods intended to accelerate the diffusion of the PAL innovation, including through adoption by other PAL software providers. A Science of Learning Library, or SLL, is under development and will include materials on foundational concepts in key subjects, the common misconceptions learners make, assessment tools to diagnose them, and remedial plans which teachers can use to help children to understand foundation concepts and correct their misconceptions. Educational Initiatives is also producing a playbook on how to implement technology programmes in government schools in India based on the Rajasthan experience. Over time, the SLL will expand further as a source of information on foundational concepts and skills that enable student learning, the most common procedural and conceptual errors made by children, the incidence of errors among different groups of children, and the most effective remediation content.
Impact to Date
Educational Initiatives has reached over 100 schools in Rajasthan and over 200 schools in 8 other states reaching a total of over 60,000 children across India. GIF has contributed to policy changes facilitating competition in, and government procurement of, EdTech PAL software. With support from Central Square Foundation, and at the behest of the Government of India, GIF led the engagement with Dalberg to prepare a Blueprint for the implementation of PAL solutions and guidelines for the procurement of PAL-type education technology solutions.[2] This was followed by a high-level meeting with the Department of Education and state governments to issue the Blueprint and guidelines in May 2018. These documents are generic in nature and applicable to any country context for implementing PAL solutions.
This has resulted in take up of EdTech PAL procurement in an additional 1,000 schools reaching over 200,000 children across Rajasthan, Uttarakhand, Himachal Pradesh, Gujarat, Madhya Pradesh, Chhattisgarh and Andhra Pradesh. The research team is now conducting an evaluation to rigorously test the impact of Mindspark's innovation in government schools in Rajasthan. Preliminary results consistently show significant impacts for student learning. We are awaiting final impact results (for 3 years of intervention) and publication of the research. On the SLL front, EI signed an MoU with the Government of Gujarat to establish a Gujarat Science of Learning Institute which would be funded, and personnel deployed, by the state government. The Institute would be responsible for the integration of the SLL with the system and its use by teachers across the state.
[1] Muralidharan, K., Singh, A., & Ganimian, A. J. (2019). Disrupting education? Experimental evidence on technology-aided instruction in India. American Economic Review, 109(4), 1426-60.
Education Initiatives Completion Report