Bandebereho ('role model' in Kinyarwanda) is a contextually responsive intervention that has been adapted by the Rwanda Men's Resource Centre (RWAMREC) from a programme run by global leader on engaging men, Equimondo, aimed at transforming norms around masculinity by using fatherhood as an entry-point. Bandebereho engages expectant and/or young fathers and their female partners in Rwanda on positive fatherhood, maternal and new-born health, violence prevention, and unpaid care work via a 15-session participatory and structured curriculum with community role models.
The Development Challenge
Rwanda has enshrined gender equality within its constitution and created strong laws and policies promoting it. However, gender gaps favouring males in areas such as education, health, and personal autonomy remain systematically present. Change at the grassroots level has been difficult to achieve, as structural and harmful social norms continue to undermine the wellbeing of women and girls, as well as men and boys, especially in rural areas. Many interventions target women as those primarily responsible for improving gender equality outcomes. However, in order to advance gender equality and transform social norms, meaningful engagement with men and boys is critical. Men are gatekeepers who hold power in society and uphold patriarchal norms, but they are also allies and partners in the struggle for gender equality as companions, fathers, and colleagues, as well as co-beneficiaries of gender equality. Whilst significant power imbalances remain, sensitising women is not enough and can even result in unintended consequences, such as increased intimate partner violence.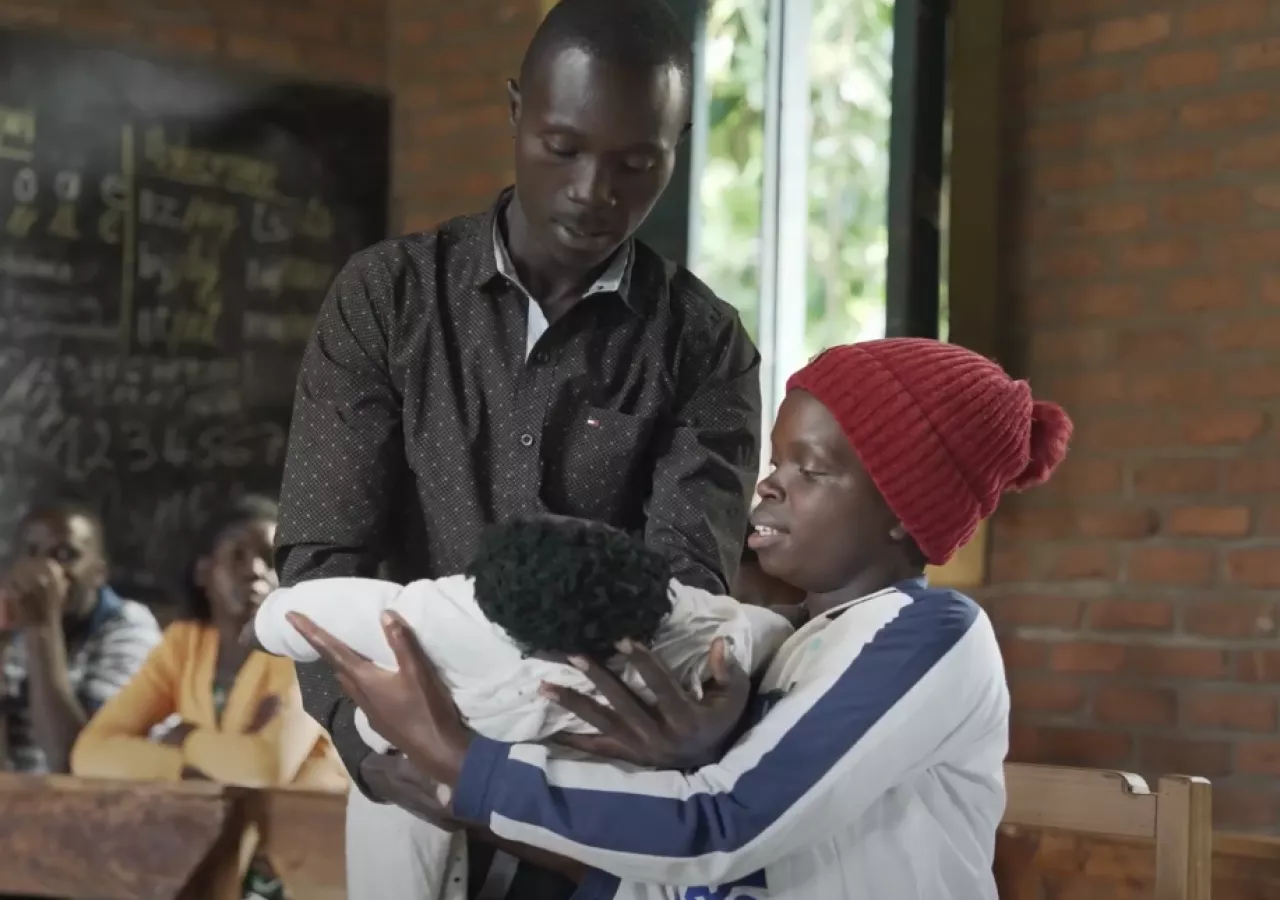 The Innovation
Bandebereho is an evidence-based innovation aimed at transforming norms around masculinity by using fatherhood as an entry point to engage men and their female partners on maternal and newborn health, violence prevention, and unpaid care work via participatory, structured sessions led by community role models. Bandebereho is a contextually responsive programme whose adaptation and operationalisation from a different programme run in Latin America by Equimundo, global leaders in engaging men and boys, was carried out by the Rwanda Men's Resource Center (RWAMREC). RWAMREC have extensive expertise in male engagement and gender norm-shifting programme implementation in Rwanda. The adaptation and implementation process also involved oversight and co-creation with the Rwanda Biomedical Center (RBC), who formally approved the curriculum in 2014, and has carried out subsequent rigorous testing through a randomised controlled trial, in collaboration with Equimundo. A six-year follow-up study is also soon to be published.

The results of this research show varied and sustained impacts of Bandebereho, including significant reduction in reported experience of intimate partner violence and violence against children, greater antenatal care attendance by women and accompaniment by men, better mental health outcomes for men, greater sharing of childcare and household tasks, and less dominance of men in household financial decisions. RWAMREC's close collaboration with the Rwandan government has ensured that the programme is aligned with national priorities on gender, early childhood development, and health outcomes. Consequently, RBC has requested RWAMREC to trial integration of the model with government health systems.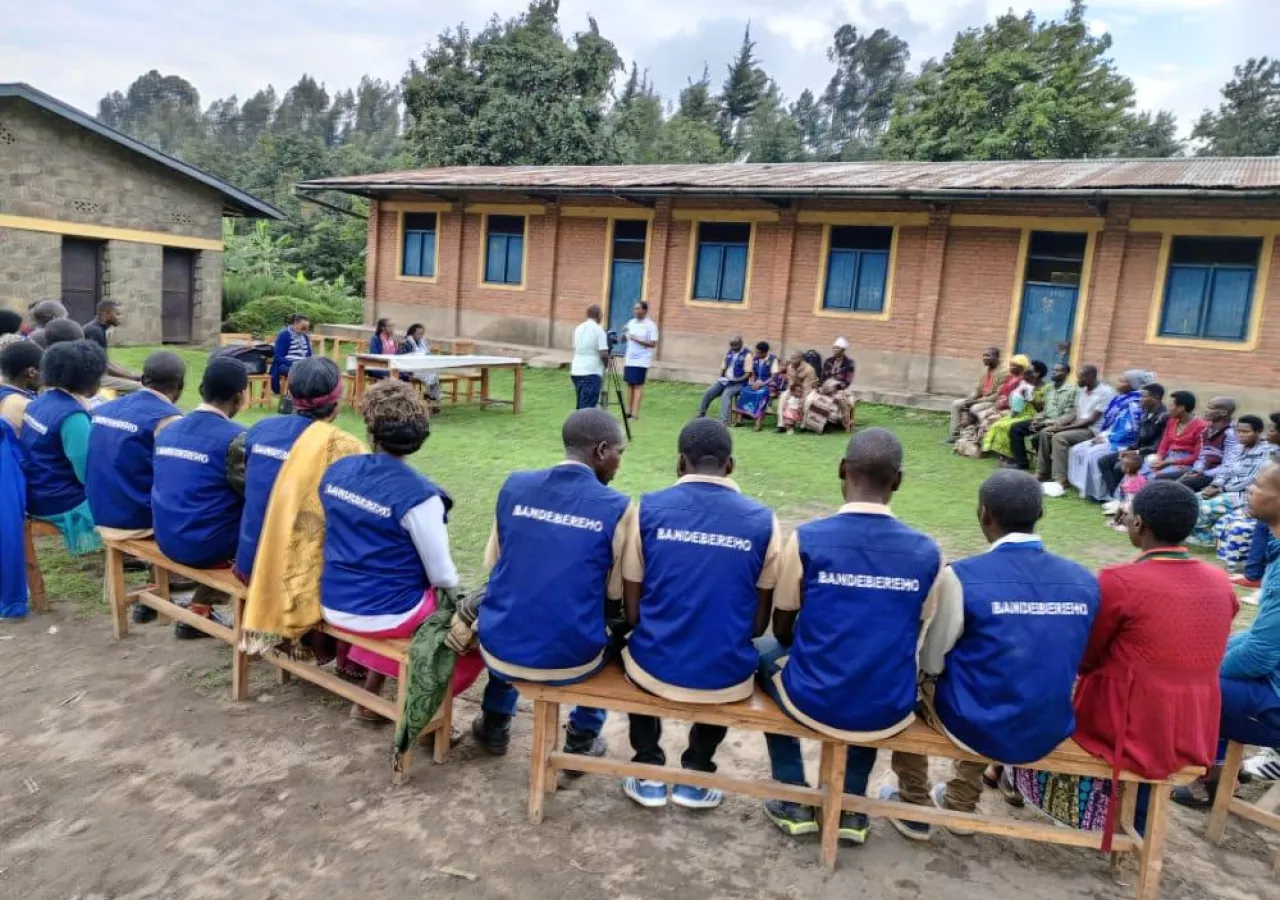 Our Investment
With a grant of $1.8 million, GIF is anchoring a larger $4.5 million investment over a period of five years. RWAMREC will seek to improve delivery via community health workers (CHWs), assess the programme's cost-effectiveness, increase uptake to at least three districts, and monitor programme outcomes and integration with CHWs and government monitoring systems.  



The objectives of the grant are:
1.      Programme Delivery: Implementation of Bandebereho by CHWs to at least 80,000 direct beneficiaries in three districts with positive impacts on gender attitudes, behaviours, and norms.
2.      Refined Model for Scale-Up: Establishing a high-impact, cost-effective implementation model that is fit for delivery through government health systems.
3.     
Positioning for Scale:
Integration of Bandebereho into the Government of Rwanda's policy.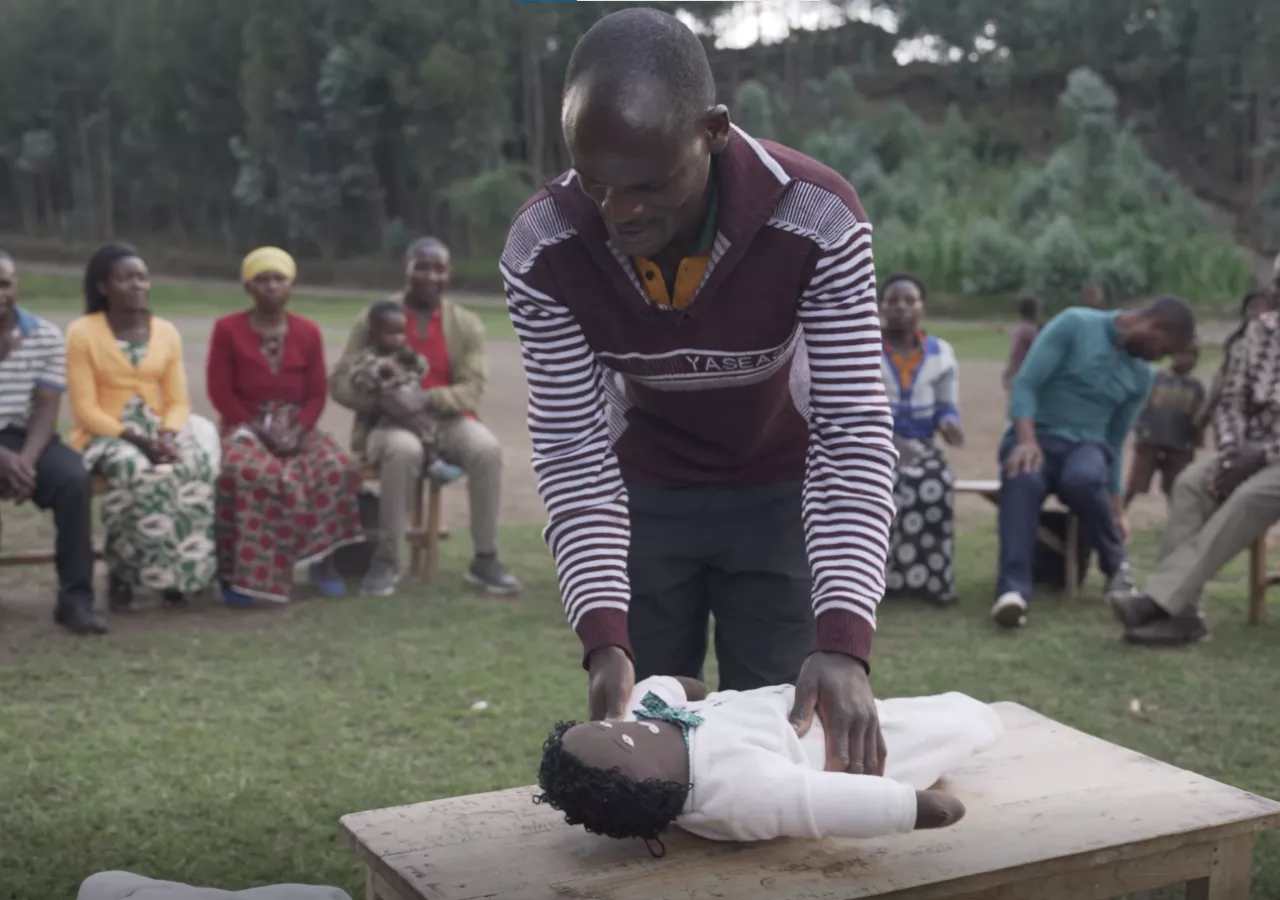 Theory of Change
Bandebereho's Theory of Change is anchored in sociological theories of gender and masculinity that highlight how gender inequalities are reproduced, sustained, and transformed through everyday interactions in the home. The hypothesis is that if men and their partners become more aware of inequalities, reflect on the costs of rigid norms, and learn and practise new skills (e.g. partner communication and joint decision-making) in a safe, non-judgemental peer environment, this could lead to positive changes across a wide range of health and relationship behaviours. External evidence demonstrates that effective couples intervention to prevent IPV typically include components that involve critical reflection on gender and power dynamics, as well as building relationship skills like communication and conflict resolution (Dunkle et al. 2020; Kerr-Wilson et al. 2020; Prevention Collaborative 2021).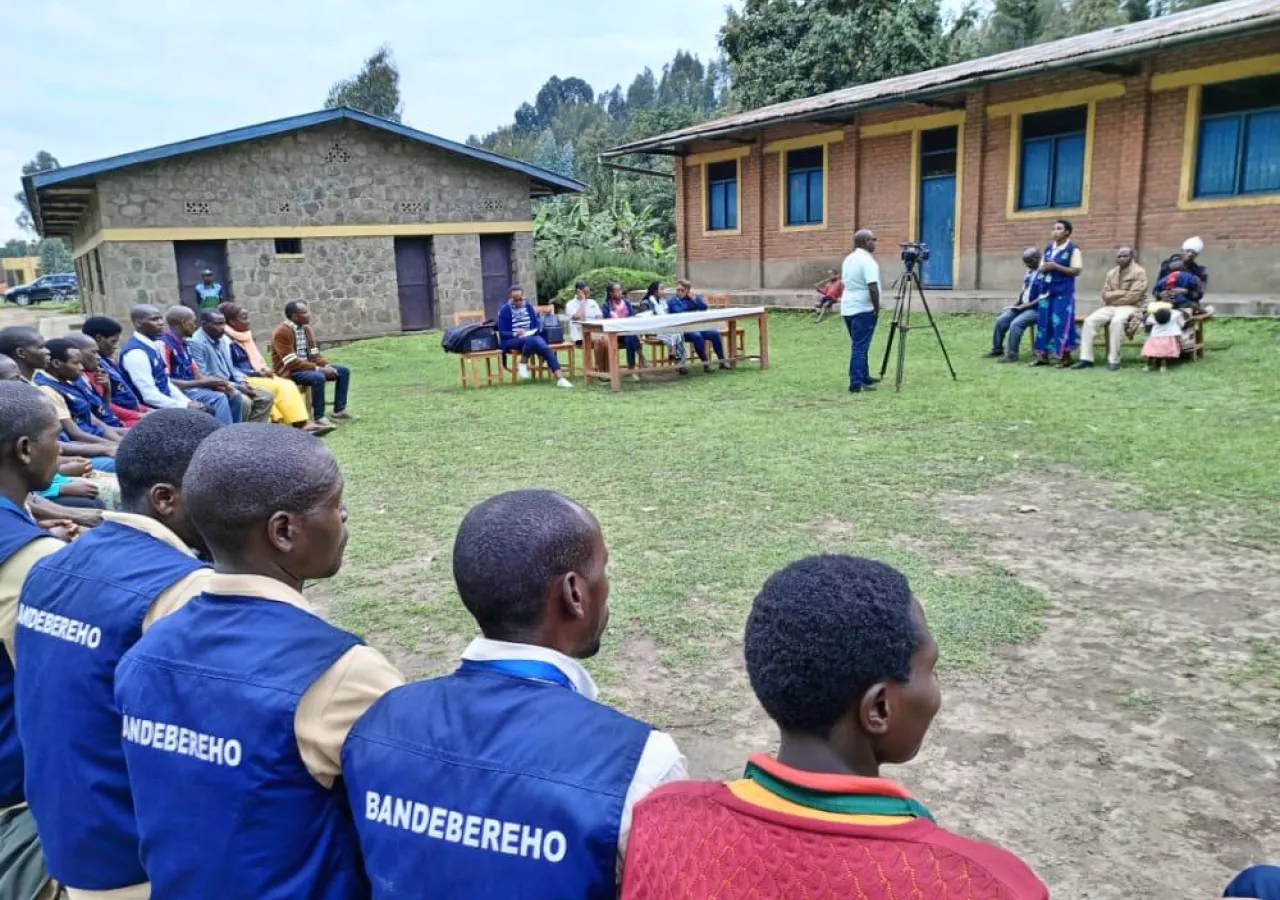 Why we invested
An innovation that both engages men as a primary mechanism in gender norms change, as well as promoting equity in care work is an excellent match for our Innovating for Gender Equality sub fund, both in terms of entry point of delivery (fatherhood), and the unique learning opportunities it presents in terms of norm-changing mechanisms and impact outcomes.
A unique opportunity to support a well-reputed local leader, RWAMREC, supported by the global voice of Equimundo. A promising public pathway to scale for a gender equality innovation in a fruitful context, Rwanda, where a strong policy environment, political goodwill, and institutional accountability to gender equality exist, as well as an opportunity to build on the existing buy-in and relationships with government partners built by RWAMREC since the launch of the innovation.
Rigorous evidence showing wide-ranging and sustained positive impacts of Bandebereho for participating men and their families.
The intervention supports the United Nations Sustainable Development Goals 5 (Gender Equality), and 3 (Good Health).
Innovating for Gender Equality
GIF is excited to be partnering with RWAMREC through our Innovating for Gender Equality sub fund to support the refinement and testing of Bandebereho's scale up in Rwanda. RWAMREC is a leading voice on male engagement in Rwanda, with extensive experience in the gender equality landscape. Rwanda itself has made great strides in advancing gender equality including through strong political commitment, legislation, and policy frameworks. This test for scale up of Bandebereho through community health workers and integration with government health systems will draw useful evidence on effective norms change at the grassroots level in a country with strong government commitment for gender equality. Meaningful male engagement remains critical for increasing women's agency through transforming the social and gender norms that reinforce patriarchy and inequality. The scale-up of Bandebereho has the potential to directly and indirectly impact men, women, and children by reducing gender-based violence and child abuse, increasing women's agency, and improving mental health outcomes in men.